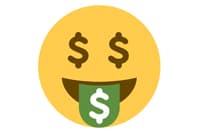 It can be difficult for any business to survive without proper cash flow. Having all your money tied up in receivables can hinder your ability to take on larger accounts and grow your business. The solution to this problem is accounts receivable factoring.
With factoring you get funded for your receivables the same day you invoice your customers. As an added benefit, since your factoring company is purchasing your receivables, you aren't taking on any new debt. Plus all credit decisions are based on your customers' good credit, not your own.
So what are you waiting for, give DSA Factors a call today at 773-248-9000 and start getting funded today. At DSA Factors we have money to make your company grow!