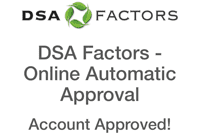 We have just published our first factoring tutorial video. Our plan is to create an entire series of factoring tutorials that our new clients can use as a reference. While much of this is nothing new for our long-time clients, for those of you new to DSA Factors or are considering factoring with us, these videos will walk you through the entire factoring process, from start to finish, and hopefully answer all of your questions. For our clients who have been with us for many years now, hang in there, we hope to create some videos featuring are online reporting tools that might teach you something you didn't know before!
The first video we are publishing is how to request an online approval (for an existing account with DSA Factors). Of course, as a family owned business we pride ourselves on our excellent customer service. So if you have any questions, or want us to walk you through the approval process over the phone, please don't hesitate to give us a call at 773-248-9000 and we will be more than happy to talk to you.
We hope you enjoy this video and the entire upcoming video series. If you have any ideas for future tutorial videos, please let us know. Thanks!